Michael Vinten conducts the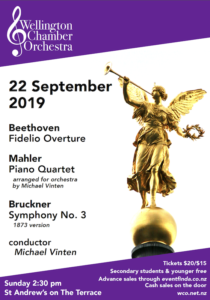 Orchestra in the third of its 2019 season concerts.
Beethoven
 – Fidelio Overture
Mahler
 – Piano Quartet
 – arranged for orchestra
 by Michael Vinten
Bruckner
 – Symphony No. 3
 "The Wagner" – 1873 version
This term's pieces are related by revision and rewriting.
Beethoven's Overture to Fidelio is the fourth overture that Beethoven wrote for his only opera, Fidelio. The other three are known as the Leonora overtures, after the original 1804 name of the opera. The Fidelio overture was written for the 1814 revival of the opera.
Mahler's Piano Quartet in Am is a single movement piece, thought to have been intended as the first movement of a never-finished chamber work. Michael Vinten has orchestrated the movement for full chamber orchestra.
Bruckner's Symphony No. 3 in Dm, WAB 103, was dedicated to Richard Wagner. It is the most heavily revised symphony that Bruckner wrote. There are three substantially different versions of the symphony. The original version was written in 1873, the second version in 1877 and the third in 1889. WCO is playing the 1874 revision of the original, 1873, version, in which Bruckner made improvements to the texture and orchestration while keeping the overall length and structure the same. This version contains many quotes from Wagner's work, which were removed in the later versions.
Tickets available in advance from Eventfinda or on the door.